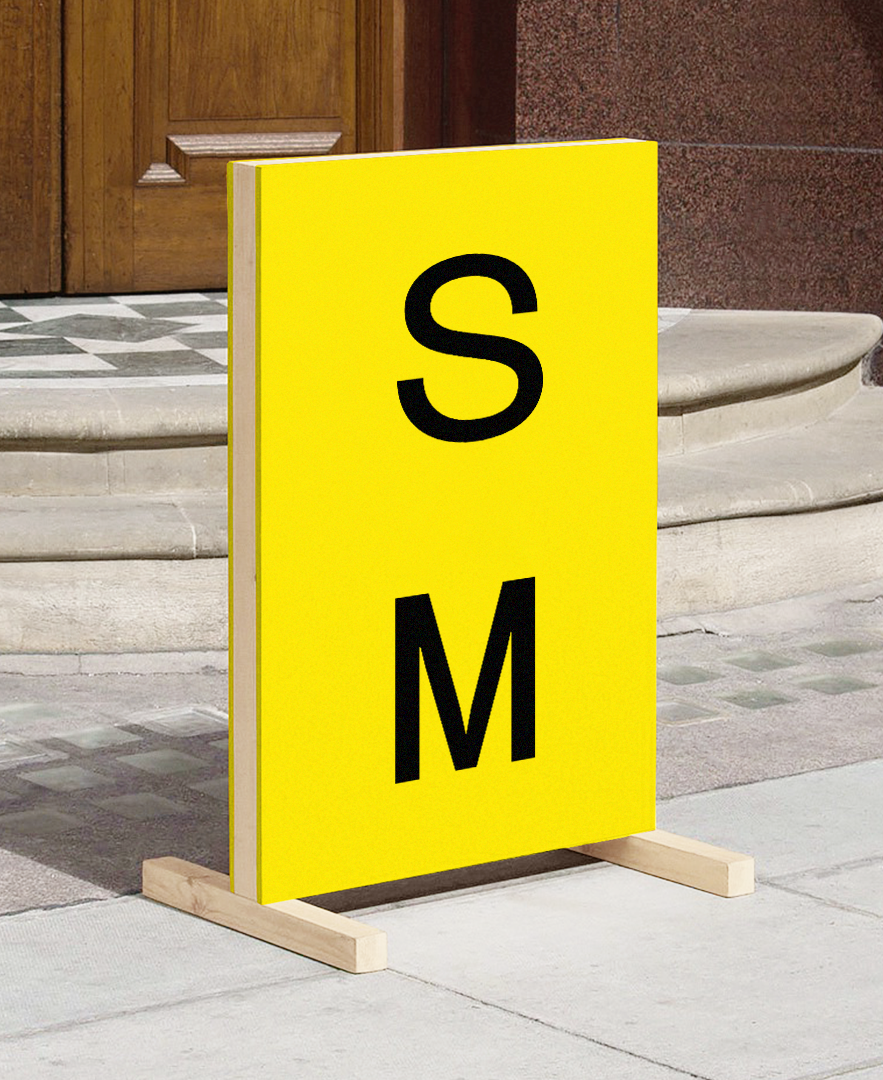 SM is a digital type foundry based in Apeldoorn, The Netherlands, initiated by Open Studio. We design and distribute modern retail- and custom fonts that facilitate clear and distinctive communication.

At SM Foundry we produce fonts with functional and aesthetic consideration, resulting in a library of versatile typefaces. In addition to our retail fonts, we offer bespoke design solutions in the form of logotypes, custom fonts, custom characters, expanding font families and complete custom typefaces.

If you'd like to meet up, discuss a prospective project or find out more, please get in touch via the e-mail address as stated above or check out the FAQ below.

Trial versions of all typefaces are available. These have a limited character set containing the characters A—Z, a—z and 0—9. Please note that our trial fonts are for testing purposes only.
Stay up-to-date with releases, revisions and other type related news through our occasional newsletter.
Frequently Asked Questions
A font licence or EULA (End User Licence Agreement) is a legally binding contract between the licensor (us) and licensee (user). When you purchase a font, you are purchasing a license — the right to use a font under conditions specified in the license agreement. You do not own the font in any way, it is a piece of software that you are licensed to use after the sale is closed. By downloading or using our fonts, you confirm that you understand and agree to the terms of this license agreement.

After successful payment, you will receive an immediate download with the required font files in a zip folder. Desktop fonts are delivered as PostScript OpenType font files in OTF format. We also provide TTF (TrueType) files on request.

After successful payment, you will receive an immediate download with the required font files in a zip folder. The web font files are delivered as Web Open Font Format WOFF and WOFF2. Embedded Opentype EOT font formats can be delivered on request.

We only offer self-hosted web fonts at the moment. You can upload the fonts to your website and apply them yourself.

Yes, just get in touch via email with your invoice and your previous purchase will be deducted from the price of your new licensing plan.

If your usage exceeds your licence for either desktop- and/or web fonts, you are required to upgrade and have the correct licence in place. Using fonts outside the original licence agreement infringes on our licensing terms and conditions. We will deduct the license already purchased, and supply you with a new upgraded license. To do this, please contact us directly.

Yes, we do. We offer a licensing tier specifically created for the needs and requirements of larger companies. Please email us for more information.

No. As stated in our EULA, our licenses are valid within a single organisation. If you purchase a license to produce the design for your client that is a license for your company. If your client then needs files to produce output themselves they will require their own license.

Unfortunately, we do not allow license to be transferred between different parties.

Yes, for the purpose of the creation of your website. Your developer must delete any font files they've received from you after the completion of the project. As part of your web license, you also agree to take reasonable responsibility to prevent third party access to the web fonts.

Delivery of the font via 'packages' in InDesign or Illustrator to printers or other suppliers is permitted for production reasons, they must not attempt to edit or modify the artwork using the typeface. Nor must they extract the font for use on other projects. This instance would require another licence to be purchased. Freelancers working on a project need to be covered by the number of computers within a license.

Test versions of all typefaces are available for free. These have a limited character set containing A-Z a-z and 0-9. You can find trial fonts at the top of this page.

You can install the trial fonts on your computer and use them in any of your mockups and prototypes. You can show them to your team or clients. Once you decide to use the fonts, you can purchase the appropriate license.

Design students can use the trial fonts in your projects without buying further licensing. As long as the project is a non-commercial project.

Yes, if you want the updated version of a font you previously purchased, just get in touch via email with your invoice and you will receive the updated font(s) as soon as possible.

No, it is not allowed to alter the font software. If you want to alter certain aspects of a font, please get in touch to discuss your wishes. While you are not allowed to modify the font software, you can outline our fonts in your design tool and change the vector shapes. This is often done for logos, and is within your rights.

The conversion of any of our fonts using web font generators is also strictly forbidden.

Yes, it's possible to have us alter or add custom characters to any of our typefaces. For custom work there is a fixed fee per character (ex. tax, if applicable) in place, additional to the licensing costs.

Yes, there is no special license needed to use our fonts for logos, as long as the computers used in creating the logo are covered.

As a general policy, we do not offer any discounts on our licensing beyond the multi-license and family discounts offered in our shop. If you represent a non-profit organisation feel free to get in touch about sponsoring.

Students are eligible for 50% off our retail licenses. Students can produce non-commercial and self-initiated work with these font licenses. Get in touch with your course and place of study to receive a discount code.

All sales are final. Our product is a piece of software, we cannot verify if you have deleted it or not, therefore we cannot offer any refunds.

All of our fonts cover our standard Extended Latin glyph set. This covers many Latin languages such as English, Spanish, German, French. In the specimen and at the bottom of each typeface webpage the covered languages are listed. If you need any additional alphabets covered, such as Cyrillic or Greek, we can offer you a bespoke design solution.

Yes we do. We also provide design modification services for any of our existing fonts with special licensing options. Please get in touch with us to discuss potential collaborations.

Installing fonts is easy! After downloading, you can take the following steps.

MAC: 1. Unzip the folder containing the fonts. 2. Select the .otf files you would like to install. 3. Double-click on the font files and select install.

PC: 1. Unzip the folder containing the fonts. 2. Select the .otf files you would like to install 3. Right-click on the font files and select install.

Fonts are sold exclusively through this website. We do not collaborate with other foundries or platforms, nor do we permit resellers or vendors to sell or license our fonts to third parties.

While we are always open to possible collaborations, there is no open position or internship possible at the moment. Due to the number of applications and our limited resources, it's not always possible to respond to every inquiry.

We're always open to work and collaborate with new designers, but the SM library is currently only a platform focused on publishing our own creations.
If your questions are not answered in the FAQ, or you require any additional support, please get in touch with us directly via Mail@s-m.nu.